A majority of Americans (62%) continue to say the country's openness to people from around the world is "essential to who we are as a nation." – Pew Research Center – 17 July 2019
The number who supported openness was at 68% in the 2017 and 2018 surveys. The drop appears due to changes in Republican attitudes of those surveyed. Democrat/Democrat Leaning adults remained strong supporters at 84, 85, and 86% in recent surveys. Republican/Republican Leaning adults decreased their support from 47 to 37%.
Curiosity about this sharp difference in support led me to another Pew study from May 2018. It analyzed the influx of refugees to the U.S. over the years and showed demographics of who supported such action. The following chart shows the number of refugees to the U.S. varies considerably. The partial year data for 2018 has been updated to about 25,000. Projections for 2019 are also for 25,000. Both numbers are a sharp drop from the previous decade.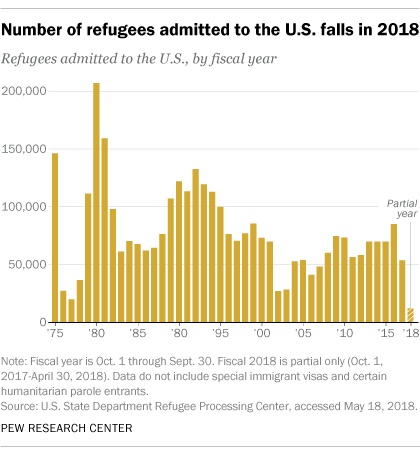 When adults were asked in 2017 and 2018 if the U.S. has a responsibility to accept refugees into the country, a slim majority of 56 and 51% overall said we are responsible. The impact of political affiliation was very apparent. Those who identified as Rep/LeanRep decreased support for the idea from 35 to 26%. The Dem/LeanDem group increased support from 71 to 74%, about a 3:1 margin between the two groups.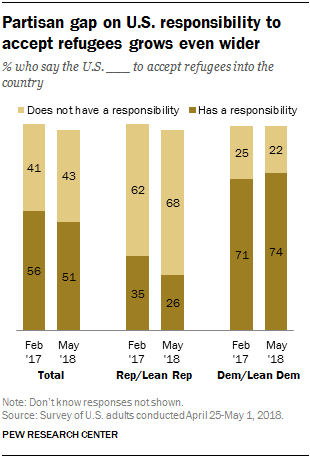 Other demographics in the study were also revealed. The chart below reports men vs women, race differences, attitudes by age group, and education level. The one most remarkable to me was due to religious affiliation. Those who identified as white evangelical protestant supported acceptance of refugees by only 25%. Those who identified as religiously unaffiliated supported acceptance of refugees by 65%. Some organized religions appear to be large obstacles to putting Christian principles into practice.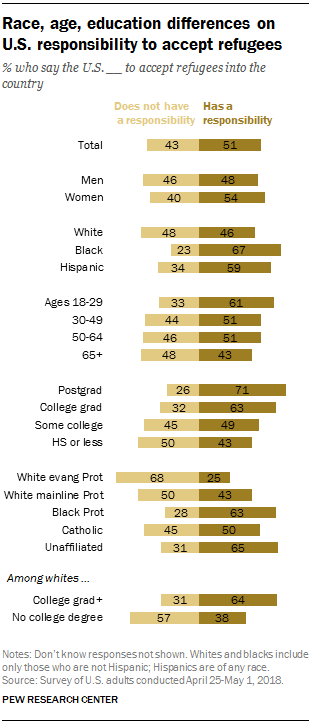 ---
I am deeply troubled by these statistics. We are a country of immigrants. Most of our ancestors were not born here and came for a wide variety of reasons. The original inhabitants were forced to leave their homelands. That is another disturbing story.
When people face war, homelessness, violence, government unrest, and other terrible things, they seek new and better places to live peacefully, work, and to raise their families. The U.S. has been a beacon of hope for many years for millions of refugees. We should not turn our backs on those who want to come. We should heed the words of the Emma Lazarus poem on the plaque at the Statue of Liberty.
Give me your tired, your poor, your huddled masses yearning to breathe free.
---
This study is an interesting comparison of part of the white population and shows the stark political divide. Thanks to Ryan P. Burge, Eastern Illinois University.