During 2017, the inner solar system has been joined by several comets. Most are not bright enough for the casual observer to see. Those with dark skies and large enough telescopes have enjoyed one of these visitors, comet C/2015 V2 (Johnson). The discovery was by Jess Johnson in late November of 2015.
Comet naming is systematic. The letter C means it is a one time visitor. A letter P would be used if the comet returned periodically such as Halley. Discoveries are denoted by the half-month in which they occur. The first comet found in the first half of January would have A1 at the end of the label. If another was found in the first half of January it would be A2, etc. The fourth one found in the second half of February would be labeled with D4. The V2 for Comet Johnson means it was the second comet discovered in the second half of November. The eleventh month means the 21st and 22nd letters of the alphabet (U and V) are used for those half-months.
One of the better images of C/2015 V2 is from Tenagra Observatories in Arizona. Details of their observation is at this link. Click to embiggen.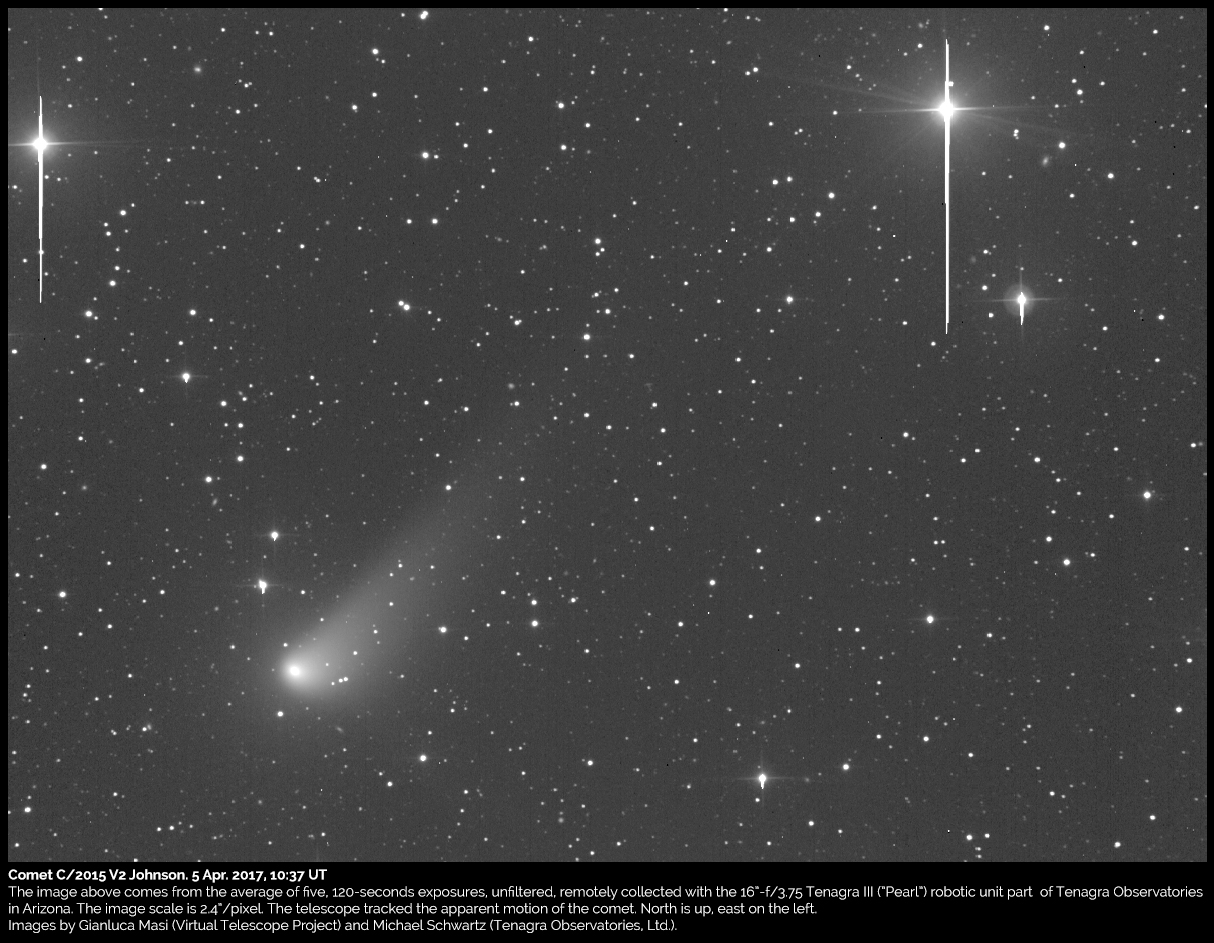 I was curious what the orbit looked like. I found a web site by Dominic Ford called In-The-Sky. His simulation showed the orbits of the inner planets and the comet which could be rotated and viewed from different perspectives. Here is a short screen video capture from his site. The video shows the comet on 30 May 2017.
I requested an image of Comet Johnson from the University of Iowa Gemini robotic telescope in Sonoita, Arizona. It was taken at 12:42 am CDT the morning of 30 May. The 60 sec exposure in visible light showed the halo and faint tail. Click to embiggen.