Discovered in 1610 by Galileo Galilei, the largest moons of Jupiter have captivated the imagination for more than four centuries. In order from closest to Jupiter to the farthest, they are Io, Europa, Ganymede, and Callisto.
With a stable pair of strong binoculars, or a telescope of low power, it is possible to see them any clear evening this spring. My desktop planetarium gave me this edge-on simulated view over the course of several days.
Europa Mission
NASA is formulating mission plans to go to Jupiter again specifically to investigate Europa. The 2016 budget includes $30 million dollars to develop the mission. Over a three-year period of orbit around Jupiter, the mission would make 45 flybys of Europa from 16 miles to 1,700 miles (25 to 2,700 km). Further details and final launch schedule yet to be determined. Launch is planned for the 2020s. That might seem like a long time. It is necessary. Our son-in-law works for NOAA. They are currently in the middle of a multi-year process to launch the next-generation of weather satellite. It is an incredibly complex process. Everything must go right. Spacecraft are not recoverable for repairs.
Over a decade ago, the Galileo spacecraft in orbit around Jupiter, made eleven passes near Europa. The surface appeared covered with ice broken into an array of pieces like a jigsaw puzzle. There were areas of fresh ice and many coated with a brownish unknown substance.
NASA | Galileo Mission
Views by the Hubble Telescope in 2013 also showed evidence of plumes of ice geysers from the surface of Europa. Internal heating would be necessary for such plumes to exist. The heat is likely the source of the brown gunk.
Conditions for Life
Europa is about the size of Earth's moon. The evidence we have suggests an ocean beneath a frozen crust of unknown thickness. The ocean could have more than twice as much water as Earth. It might be salt water above a sea floor rich with the energy and chemistry from tidal heating. We have such places here in the oceans of Earth. Life is abundant in those exotic environments on Earth. Europa could harbor life in the same ways.
Discovered in 1977 on Earth, these hydrothermal vents are home to large marine ecosystems that live in perpetual darkness. Their energy comes from the chemicals released from the vents in the super-heated water.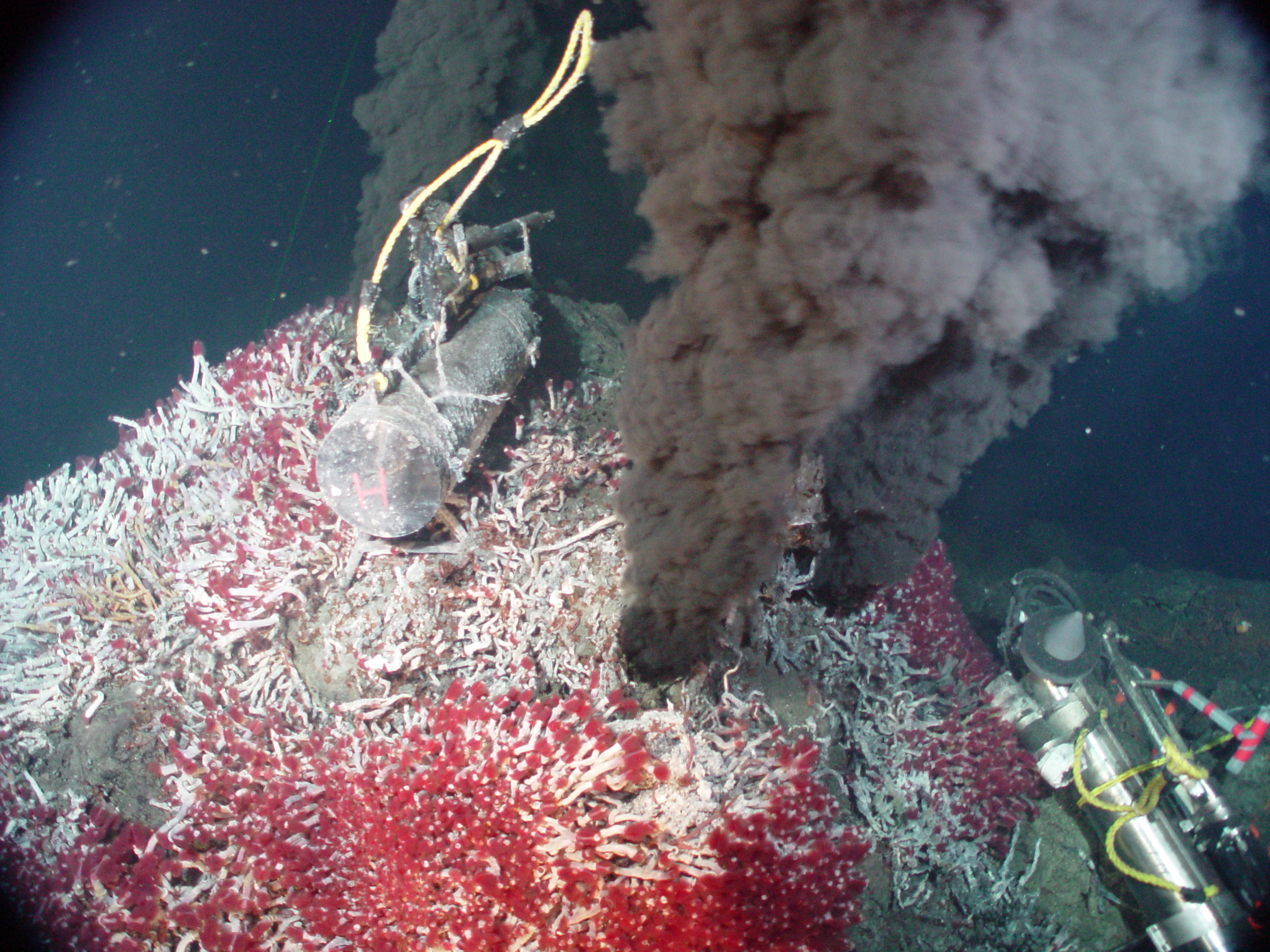 Exploratory equipment and tube worms around black smoker vents.
Nine Scientific Instruments
NASA officials announced on May 26, 2015, the nine scientific instruments that would be used to investigate Europa for potential life.
Magnetic Sounder to determine Europa's ice shell thickness, depth of the ocean, and salinity.
Magnetometer along with the Sounder to determine the ocean location, thickness, and salinity.
Spectrometer examines composition of salts and ices to judge the habitability of the ocean.
Imaging System will view Europa at resolutions 100x better than our current images.
Ice Penetrating Radar will examine the structure of the ice crust around the moon.
Thermal Emission Imaging System to look for sites of heat and possible geyser vents.
Mass Spectrometer will sniff the thin atmosphere and ejected particles from geysers vents.
Ultraviolet Spectrograph to detect small plumes of water and ice from the surface.
Surface Dust Analyzer will sample particles ejected from the surface during close flybys.
"This is a giant step in our search for oases that could support life in our own celestial backyard," said Curt Niebur, Europa program scientist at NASA Headquarters in Washington. "We're confident that this versatile set of science instruments will produce exciting discoveries on a much-anticipated mission."